Unlocking the Potential of Talent Acquisition with ChatGPT eBook
ChatGPT is a revolutionary platform that is helping recruiters to assess better and source top talent more rapidly and effectively than ever before.
The world of talent acquisition has undergone a dramatic transformation in the last few years. Powerful new technologies and changing trends have created exciting opportunities and daunting challenges for organizations.
This comprehensive recruitment guide with ChatGPT will help your organization find the best talent on the market and take your talent acquisition efforts to the next level. We'll look at how ChatGPT can be a powerful tool for streamlining your recruitment processes, enabling you to effectively reach and evaluate potential candidates, create engaging job descriptions, benchmark salaries, and communicate effectively with applicants. In this guide, we will cover the following:
Unlocking the Potential of Talent Acquisition with ChatGPT
The Future of Talent Acquisition: Recruiting with ChatGPT
Getting Information about Roles from ChatGPT
Using ChatGPT to Create Job Descriptions
Making Job Descriptions and Language Inclusive with ChatGPT
Using ChatGPT for Salary Benchmarking
Communicating with Candidates Using ChatGPT
Candidate Assessment Using ChatGPT Recruiting
Interviewing with ChatGPT
Benefits of Recruiting with ChatGPT
Fill out the form for your instant download.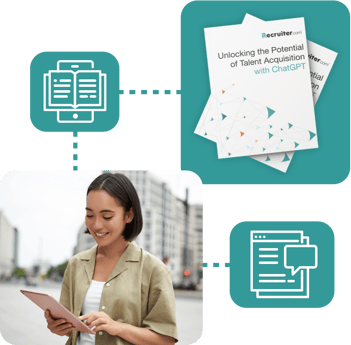 Leading companies trust our on-demand talent acquisition solutions.