Recruiters On Demand
Expand your recruiting team without having to hire a recruiter
Tap into the power of Recruiter.com's network of over 30,000 recruiters to meet your target hiring goals.
Recruiter.com On Demand

is a flexible, monthly solution to quickly add recruiters to your team without the commitment of hiring staff. Start receiving professional recruiting assistance that flexes with your hiring needs. Augment your in-house talent team with contract recruiters or bring on your first recruiter.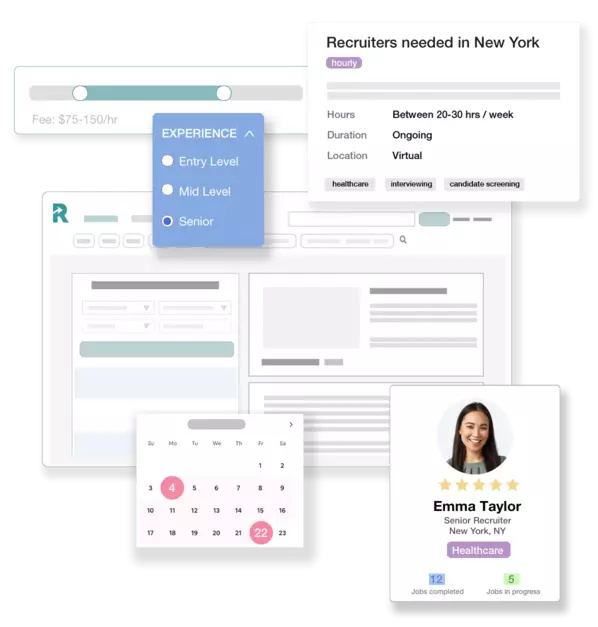 EXPERIENCED RECRUITERS
Ready to help you hire.
Fast Ramp Up
Ramp up your on-demand recruiters quickly. They will be experienced professional recruiters, many with Recruiter.com Certification Program training or similar recruitment and talent acquisition certifications and recruiting process training. Recruiters with industry specific expertise are available.
Consistent Feedback
We stay in touch with both you and your on-demand recruiter consistently, to ensure you are happy with the results. Reporting and metrics are available as well, so you're sure to be comfortable with your on-demand recruiting services.
Monthly Delivery
The Recruiters on Demand solution gives you simple, flat monthly or hourly pricing with no success fees. It's a great way to support your existing team of recruiters or bring on your first recruiting resource without hiring staff recruiters.
Change Anytime
Do your hiring needs change dramatically month by month? Recruiters on Demand gives you the flexibility to add to your team when you need it, and take resources off whenever you want. There are no long-term commitments.
Set the Schedule
With Recruiters on Demand, you're in charge. Depending on your job requirement load, pick anything from one part-time recruiter to a whole dedicated team of recruiters. You set the number of recruiters and their level of involvement with your company. Involve your on-demand recruiters with one aspect of recruiting, such as sourcing or screening, or more comprehensively with workforce planning and improving candidate flow.
Find the Right Talent
Finding the best talent for your business can transform your results. No matter your specific industry, finding the right talent for your job requirements is a critical component of operational efficiency. Recruiter.com work with fast-growth startup companies and the Fortune 100, so we're experienced at finding the right solution for your individual hiring needs.
Cost Savings
Every company has limited resources, and the cost of hiring full-time staff can be prohibitive for highly variable needs such as hiring demand. With flexible on-demand recruiting services from Recruiter.com, you may be able to realize significant cost savings, especially for short-term cycles of fast-growth.
Recruit Qualified Talent Faster
Learn how you can recruit in-demand talent faster and reduce recruiting costs with the power of flexible, on-demand recruiting services
LEARN MORE